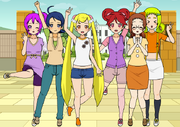 Hello! Welcome to my Page! I'm a long-time Ojamajo Doremi fan and Admin/Founder of this wiki. I was inspired to make it after seeing the poor conditions of other wikia dedicated to the series and deciding an entirely fresh start would be smart.
Sometimes I might disappear for a while- but I always come back with new insights, ideas, and the encouragement to resume working seeing the efforts of my fellow members and friends x3
Feel free to say hi, and don't forget to check out the Fanon wiki~
Userboxes
Characters
| | |
| --- | --- |
| | This user loves Fami! |
Other
My Ojamajo First-Time!
I was in middle school when the series debuted here as Magical Doremi. Back then I was instantly smitten with it's charming art style and concept, and I began buying as much english merch as I could.
Eventually the hype died down but one day I was browing a forum for a game series I like when I saw someone's signature, which had a banner type image in it depicting the girls. But what caught my attention was that it was them in strange new uniforms and there was a PURPLE girl with them!
After clicking the banner, having recognized the group, I was taken to the Ojamajo Doremi Youtube search page and I was further confused, but intrigued. I learned everything I could and never looked back. I even got into making amvs and characters for the series! I made several, and I was the original Onpufan (I still have the videos, even though I have changed my name by now).
Merchandise
I wish I had more, but I only have a handful of stuff. I cherish it all very much though~
Prized Possession that I wanted more than ANYTHING: TCG Onpu Devil figure with stand
All of the miniature Magical Doremi figure sets
Talking Dorie
Talking Reanne (I never got Mirabelle because I couldn't find her)
The miniature Dorie, Reanne, and Mirabelle dolls.